Nine years ago, London's Victoria & Albert Museum opened "British Design 1948-2012: Innovation in the Modern Age" — an exhibition comprising more than 300 objects exploring three key themes: the tension between tradition and modernity; the subversive impulse in British culture; and Britain's leadership in design innovation and creativity.
In a promotional video for the exhibition, Edward Barber (of the London-based industrial design studio Barber Osgerby) made a compelling point: "It doesn't matter where you go in the world, you'll find a British designer working there, whether it's in architecture, industrial design, fashion design or graphics, we are everywhere." Hailed by the museum as "one of the most exciting creative practitioners working in the UK today," London Design Medal winner Thomas Heatherwick echoed Barber's sentiments: "When I think of British design, I find that somehow one is talking about people from all over the world who have chosen Britain to base themselves. A lot of modern history has been rooted in what has come from the United Kingdom."
Undoubtedly due to this global network of British designers, their wide-ranging influences and the diversity of the UK, it's futile to try to categorize or summarize British design. It can be regal or rebellious, minimalist or maximalist, eccentric or restrained. Ungovernable stylistic inclinations aside, Brits are also behind numerous innovations and inventions, including the tin can, the chocolate bar, the toothbrush, the thermos, the kaleidoscope, the bagless vacuum cleaner and the ATM — not to mention the popularization of the miniskirt (courtesy of swinging '60s designer Mary Quant) and punk culture (thanks to the Sex Pistols, Vivienne Westwood, Malcolm McLaren, et al.). On the home furnishings front, Sir Terrence Conran is credited with "revolutionizing retail and decor" in the 1960s with Habitat — a London-born chain that brought modern design to the masses and introduced a build-it-yourself format later adopted by IKEA.
Fittingly, the British brands represented by Alexander Marchant champion myriad styles and points of view. Some uphold age-old traditions, others buck tradition altogether — but all maintain a razor-sharp focus on quality, craftsmanship and innovation.
Armac Martin
Launched by brass founder Harold McGrail in 1929, Armac Martin celebrates the timeless elegance of brass and takes heritage and craftsmanship seriously. Based in Birmingham, the fourth-generation family business offers more than 30 distinct collections of cabinet hardware that run the gamut from industrial (the customizable MIX series is beloved for its tactile, diamond-knurled knobs and pulls) to ornate (Aberdovey takes stylistic cues from seashells). Adding geometric flair to cabinets, doors, vents, panels and more, Armac Martin's decorative brass grilles are an undeniable fan favorite that are assembled by hand and available in nine unique finishes.
---
Buster + Punch
The brainchild of architect and industrial designer Massimo Buster Minale, Buster + Punch boasts unusual roots in a motorcycle garage in East London. Drawing inspiration from "London's fashion, music and sub-culture scenes," the company strives to "transform everyday functional fittings into extraordinary home details" and succeeds with flying colors. In addition to solid-metal door and cabinet hardware (the multicolored "burnt steel" finish is truly something to behold), the edgy lifestyle brand creates industrial-chic pendant lights outfitted with covetable bulbs, diamond-knurled brass candle holders, dog collars, jewelry, metal coffee tables and home bars fit for a rockstar.
---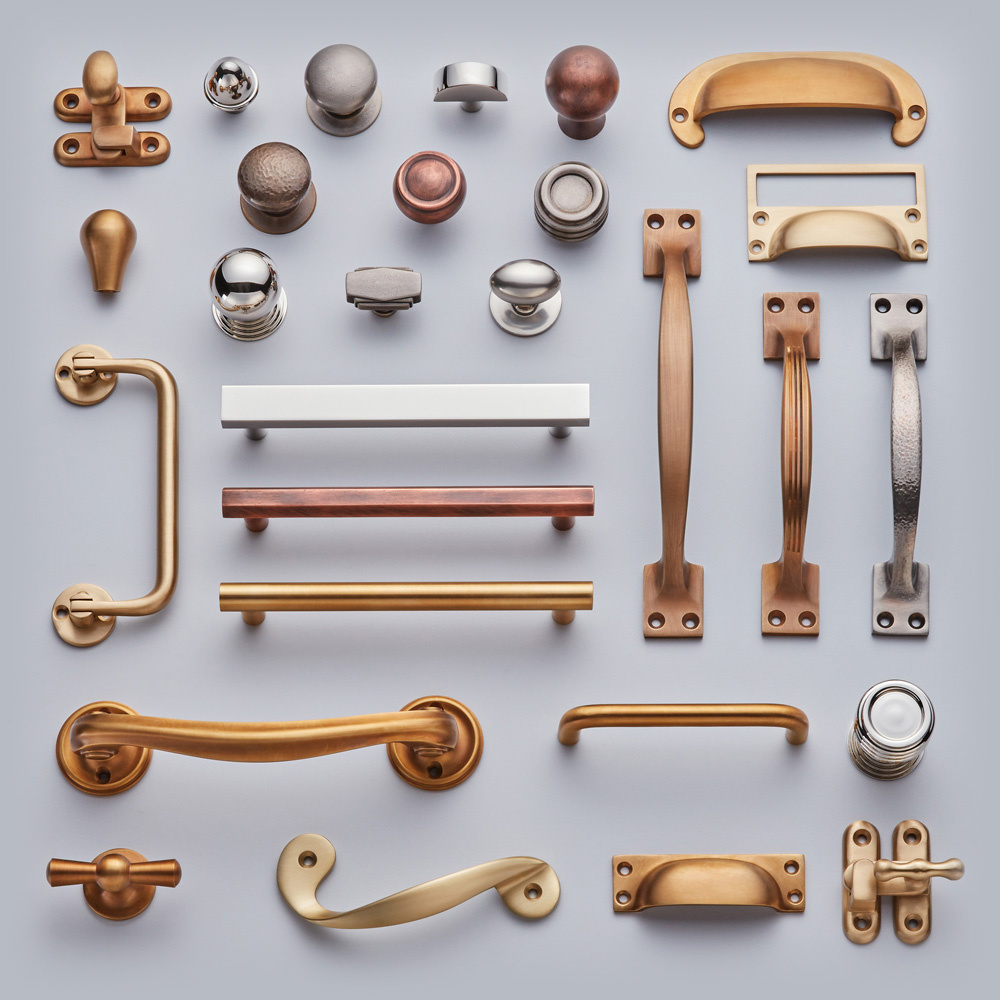 Croft
Built by five generations of a family with 150 years of manufacturing history between them, West Midlands-based manufacturer Croft isn't afraid to use the word "perfection." In fact, it's what they call their "default standard." Since opening its modern chapter in 1972, the company has earned a reputation for impeccable brass and bronze door, cabinet and window hardware as well as bespoke furnishings for royal palaces, historic castles, stately museums and luxury hotels. Encompassing an array of styles (from Art Deco to contemporary), Croft fittings can be personalized in an assortment of signature finishes and patinas including matte black bronze, marbled brass, pearl nickel and polished chrome.
---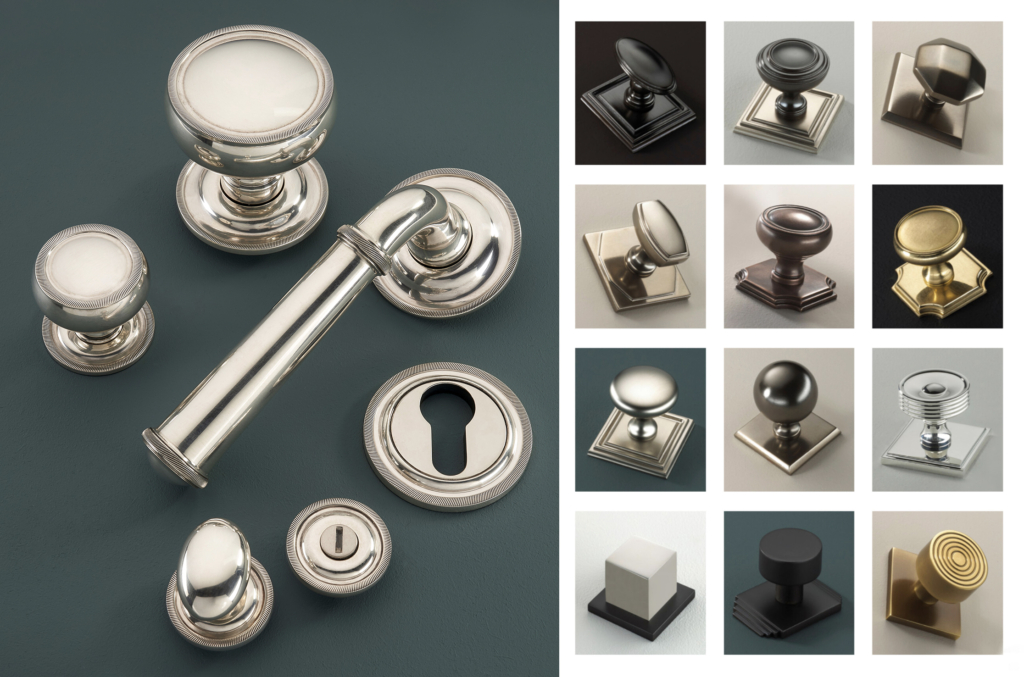 Frank Allart
Established by George Allart in 1914, Frank Allart (exclusive to Alexander Marchant in Central Texas) made a name for itself in WWI-era Birmingham by manufacturing brass fittings for the architectural, marine and railway trades. Proud inventor of the 5640 flush bolt that's still in heavy rotation in the door hardware industry, Frank Allart now designs and manufactures a comprehensive selection of residential hardware (including more than 100 door lever and knob designs) available in 30 metal finishes and patinas. Last year, the century-old company introduced Allart Precision, a new range of door, cabinet and window hardware distinguished by engineered knurled patterns and precision cuts.
---
Ged Kennett
Based on a quaint, country estate in Southwest England, craftsman Ged Kennett got his start in hand-forged ironwork for residential projects but found his calling in the realm of bespoke cabinet hardware. Formed in 1997, his niche operation is filled with "beautiful old machinery" and proprietary tools used to create stainless steel and brass handles adorned with distinctive textures. Inspired by a trip to India and produced in collaboration with Jodhpur-based designer Gajendra Shanane, Ged Kennet's Precious Hardstone Collection places amethyst, banded jasper, bloodstone, fossilized agate, green aventurine, lapis lazuli and other semi-precious stones in an exquisite yet functional context likened to "jewelry for furniture." 
---
Kast
You might not know how desperately you need a colorful concrete washbasin until you get familiar with Kast, the design-forward outfit Swiss designer Tim Bayes formed in 2013. Situated on the edge of Sherwood Forest of Robin Hood fame, the company admittedly focuses "relentlessly on one thing" — crafting concrete sinks in a rich and earthy rainbow of 28 colors (storm, mint, peach, brick, golden  and duck egg among them). While concrete (or "liquid stone") is the sole medium of choice, Kast's  shapes, sizes and styles encompass everything from the compact Nilo to the twin Flor Double and the texturally patterned options of the Kast Canvas Collection.
---
Original BTC
Hailed as "one of the first designers to capture the appeal of industrial styling," Peter Bowles founded Oxfordshire-based Original BTC in 1990 with a goal to produce "lights that you are instantly at home with." In addition to running six factories — including facilities for ceramics, glass and metal — the family-run company serves as an umbrella over the Davey Lighting and Beadlight brands. While industrial sensibilities are a common thread (the aluminum Titan pendants are to die for), some Original BTC designs skew elegant and even delicate — especially those rendered in translucent bone china (a signature material). Another hallmark described as "one of Original BTC's best-loved design features" is the use of braided cotton flex in lieu of unsightly plastic cords.  
---
Samuel Heath
With an astounding 200-year history, Samuel Heath (exclusive to Alexander Marchant in Central Texas) is both an authority and a pioneer in the realm of British design. Established as a traditional Birmingham brass founder in 1920, the company initially produced bed frames, fireplace accessories and giftware but is now known for bathroom fixtures and architectural hardware that deliver "perfect function and beautiful form." Complementing collections that take design cues from Art Deco, industrialism, "Nordic chic," the Bauhaus movement, "quintessentially English" neoclassical styles and plenty in between, Samuel Heath's distinct One Hundred Collection showcases the company's rich heritage with taps, showers, tub fillers and accessories distinguished by mirror-polished black levers, knurled escutcheon detailing and even translucent crystal glass.
---
Turnstyle Designs
Formed by Steven Roberts and based in "glorious North Devon," Turnstyle Designs arrived on the scene in 1992 with the amusing slogan "Bored of Brass." Over the course of nearly three decades, the company has proven its nonconformist point of view by creating innovative door and cabinet hardware from perspex, concrete, hand-stitched leather, dyed marble and the proprietary composite Alupewt. Awarded the prestigious Queen's Award for Enterprise in 2018, Turnstyle offers more than a dozen unique collections ranging from the geometric Labyrinth (a collaboration with London-based Winch Design) to the organically inspired Bamboo.