Are you a foodie with dreams of having a chef's kitchen in your home? Whether you're creating culinary masterpieces or cleaning them up, the right kitchen can truly elevate your experience. The great thing is that achieving a chef's kitchen in your home is actually very possible with The Galley Ideal Workstation.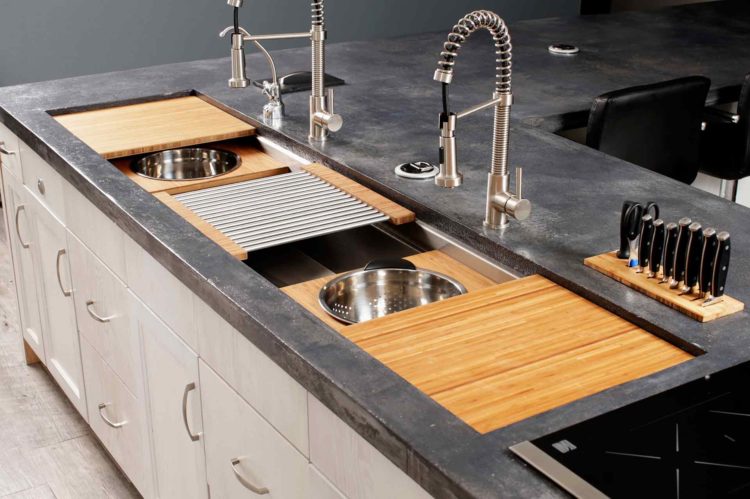 Alexander Marchant is very proud to be an Authorized Dealer for this revolutionary product. There aren't enough adjectives to describe how much we love The Galley!
The award-winning Galley Workstation is much more than a sink: it is a super-functional, smart and stylish workstation where food prep, cooking, serving, entertaining and clean-up can all happen in one simple, convenient place. Every one of The Galley's products are highly-engineered and hand-crafted in the USA.
It's ideal for any indoor or outdoor kitchen and works perfectly in both large and small kitchens. The Workstation is available in six standard sizes, both single and double-bowl, and in custom sizes by special order. You can add one to your new kitchen or retrofit your existing space, too.
Each Galley Ideal Workstation model includes these features:
Stylish 16-gauge stainless steel, fabricated in one piece with the highest quality stainless steel and TrueEdge™ design.
Versatile double-tier design puts functionality on a whole new level! Accessories slide above and below each other on upper and lower tiers.
Angel Finish, which is a custom hand-crafted finish for superior wear and easy maintenance.
Reversible sink with side drain maximizes usable storage under the sink. The sink can be installed with a right or left drain location.
Ideal flow drain cover conceals the drain while still allowing water to flow freely.
Deluxe stainless bowls have a nonslip silicone base and a lid that seals. Take it from your Galley to the refrigerator or from your refrigerator to your Galley!
Cutting boards in the highest quality natural bamboo or restaurant-grade high-density white or black resin.
Deluxe stainless colanders with nonslip silicone feet and handles for ease in handling hot food.
Aluminum drain rack offers a place for rinsed dishes to dry, can be used as a trivet to land items right from the oven, or to hold fresh fruit and veggies after they are rinsed.
Platforms are custom designed to hold the deluxe bowls and colanders.